Back to overview
International IDEA in Tunis and Raedat on the Front Lines for Gender Equality in the Arab parliaments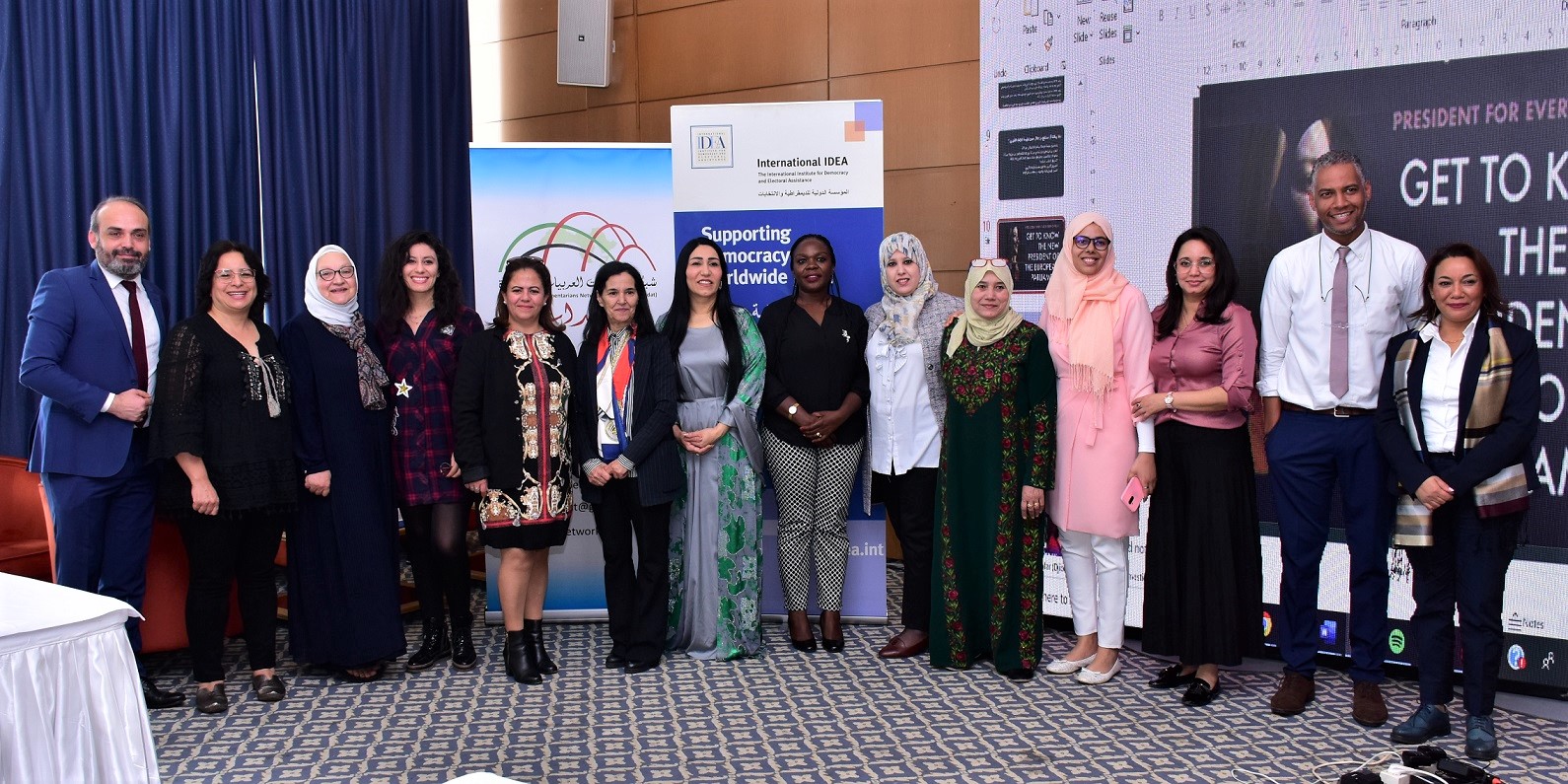 Despite the legal reforms that have been taken by various Arab countries following their ratification of various international agreements guaranteeing women's civil and political rights, women have not been able to achieve equal representation in elected councils.
From this perspective, the Arab Women Parliamentarians Network for Equality—Ra'edat [Pioneers] represents an important platform that brings together former and current women parliamentarians who have made it their mission to reduce the gender gap in Arab countries, defend the values ​​of equality in decision making, and devote women's rights as a prerequisite for achieving balanced development. 
Although the network succeeded in bringing in many local, regional and international partners, and in implementing many interventions that covered various Arab countries, its work was not devoid of legal challenges, as the network was only registered in November 2021 in the Hashemite Kingdom of Jordan after many attempts to register it failed in other Arab countries.
On the administrative level, despite the network's efforts to develop an internal organizational structure, there is a challenge towards the financial activation of that structure and allocating the necessary funds for it. In addition, all the activities carried out were not structured and coordinated. Within the framework of International IDEA's support for various regional and national initiatives aimed at supporting women's political participation, the institute sub-regional office in Tunis accompanied the Network of Arab Women Parliamentarians-Ra'edat in the course of laying the basic foundations for the network's institutionalization and working to spread it in the Middle East and North Africa. This is because this type of networks cannot represent a tributary to bring about change in the level of women's political participation if it does not contain the elements of organized and coordinated action behind a unified and coordinated strategic vision. In this context, since 2022, International IDEA supported the efforts of the network in designing its strategic plan for the years 2023 to 2030 according to scientific methodology and steps, as well as working with the network to design a communication strategy, in addition to supporting its capabilities in dealing with the media.
On 14 and 15 March 2023, a workshop was organized to validate the strategic plan. On the sidelines of the workshop, a number of meetings were held in which the participants expressed their desire to continue working on activating the plan, designing the implementation plan and designing the organizational structure of the network.
Nawal Al-Faouri, Vice President of the Network, expressed the importance of this step to activate the Network's work in a professional and stable manner and to serve as a reference platform to support gender equality in decision-making positions.
A memorandum of understanding was also signed between Raedat Network and the International IDEA on the sidelines of the workshop.