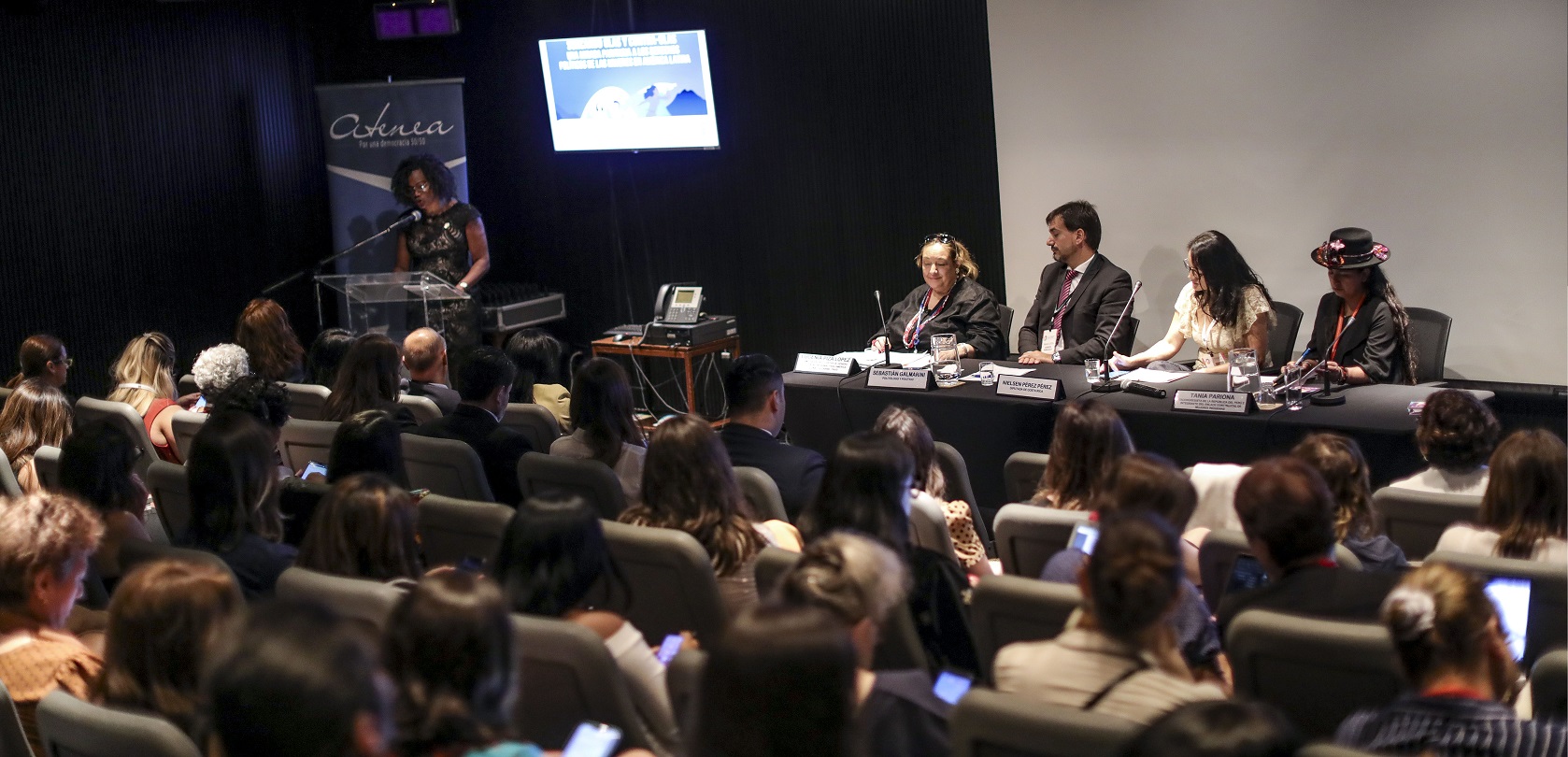 Photo Credit: Carolina Cornejo, UNDP
Este artículo está disponible en Español.
In the framework of the XIV Regional Conference on Women in Latin America and the Caribbean, International IDEA, the United Nations Development Programme (UNDP), UN Women organized the side event on "Women´s political participation in Latin America and the Caribbean: progress, trends and challenges", at the headquarters of Economic Commission for Latin America and the Caribbean (ECLAC) in Santiago, Chile. The objective of the event was to present comparative results of ATENEA, an initiative promoted jointly by the three organizations.
ATENEA is based on a methodology called the "Political Parity Index", which makes it possible to measure the actual exercise of women's political rights and the minimum conditions required to guarantee them at the country level, as well as at the regional comparative level, through eight dimensions of analysis and 40 standardized indicators.
During the event, the study "Surfing waves and counter-waves: a peer-to-peer view of women's political rights in Latin America" was also presented, a complete analysis of the changes (and resistance to changes), trends, challenges and opportunities for action to improve the exercise political rights of Latin American women. The study is a comparative analysis of the 11 diagnoses carried out by the countries that have implemented ATENEA since 2015 and calculated their Political Parity Index (i.e. Argentina, Brazil, Bolivia, Chile, Colombia, Guatemala, Honduras, Mexico, Panama, Peru and Uruguay). In 2019, the province of Córdoba-Argentina has adapted the national diagnosis to the local-provincial level, developing its own parity index.
Vice President of Costa Rica, Epsy Cambell, gave the inaugural speech. In addition, the event saw the participation of Nielsen Pérez; Congresswoman of Costa Rica; Gael Yeomans, Congresswoman of Chile; Tania Pariona, former Congresswoman of Peru and Sebastian Galmarini, former Senator of Argentina. Pilar Tello, Eugenia Piza-López and Violeta Domínguez representing International IDEA, UNDP and UN Women respectively also participated in this event.