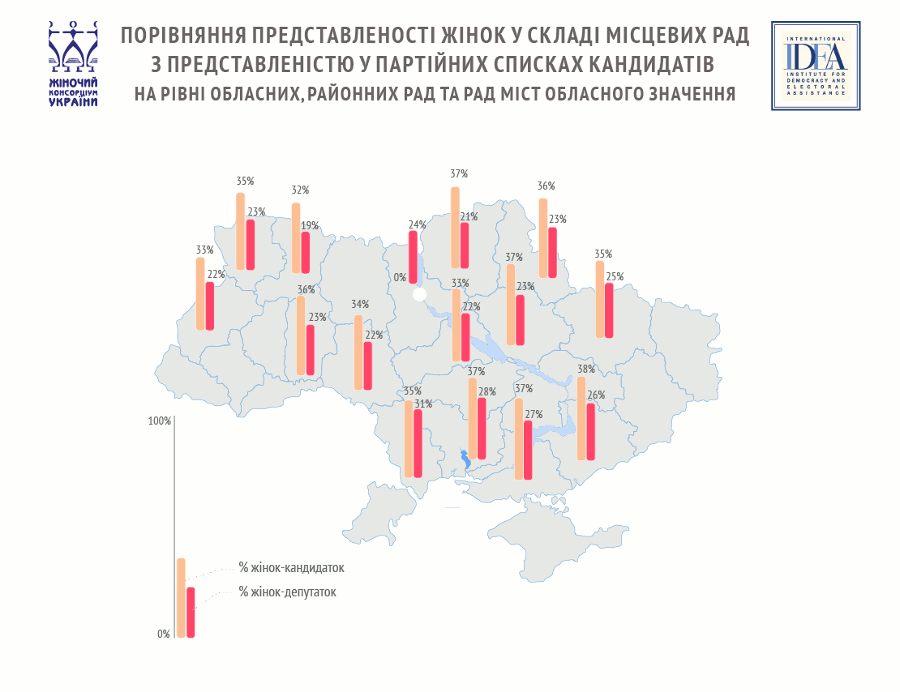 Ukraine's local elections in October 2015 were yet another critical democratic milestone for the country following the 2013 pro-democracy uprising that ousted President Viktor Yanukovych replacing him with a pro-western coalition of parties.
These elections were a critical test of the new government in their pledge to implement robust democratization reforms, and through them, take necessary steps to meet outstanding global development goals, such as promoting gender equality and empowering women in political and public life. When it comes to gender equality the Ukraine still has a long way to go even if the country has made some efforts in recent years.
The newly adopted local election law includes legal requirements to nominate no less than 30 per cent of women as candidates in local elections but has no effective sanctions to ensure compliance.
Women's under-representation in politics has been one of Ukraine's long standing democratic deficits, with only 12 per cent of women elected in the 2014 parliamentary elections. This low number is unfortunately also the highest number of women ever elected to the country's legislature. At the sub-national level, women have traditionally fared marginally better averaging 18 per cent among different levels of elected councils in the last elections.
Understanding particular challenges and biases that women face, particularly during the nomination process and in campaigning, is vital to develop effective strategies for women's political empowerment and electoral success. In the run up to the 2015 elections, International IDEA therefore partnered with the Women's Consortium of Ukraine (WCU), to conduct a gender-based analysis of the local elections, including candidate nomination and campaigning processes.
The initiative built on similar initiatives to assess elections through a gender lens and support national reform processes by providing local evidence-based and international comparative insights.
The IDEA-WCU gender-based analysis focused on identifying the extent to which parties complied with electoral gender quotas, how women and men contesting electoral seats differed in their campaigning capabilities and strategies, how parties supported women and men candidates, and how voters engaged with candidates of different sex in various campaign events.
On a positive note
Compared to previous local elections, the October 2015 campaign showed increased levels of voter outreach by women candidates. While most parties increased the number of women candidates compared to past elections, smaller parties showed higher compliance rates with the 30 per cent minimum quota. The final outcome was a significant contrast in number of women elected, 18 per cent on average, compared with the number of women nominated as candidates, 32 per cent on average. This might be attributed to the fact that women were rarely chosen as top candidates on the parties' lists.
Monitors noted that male candidates, particularly those running for seats in oblast councils, were better financed with expensive campaign materials for their own promotion. Female candidates were instead more likely to disseminate leaflets and newspapers with general information about their party. Yet, women were more innovative in their outreach using social networks, placing their articles in local periodicals, speaking on the radio, and organizing social events as part of their campaigns. This helped them establish direct links with voters.
Women were also noted to be frequent guests on TV, likely due to the introduction of gender quotas, which resulted in increased public interest in women candidates and policy proposals and messages that they carried.
While outdoor campaign advertising was overall dominated by men women were more publicly visible than ever before.
Party support varied
In observing party support and endorsement of different candidates, monitors noted that male candidates were usually accompanied by five to seven party representatives compared to women who were accompanied by one or two.
Deeply entrenched stereotypes
As a sign of the deeply entrenched gender stereotypes among voters, women candidates were often asked questions such as: "Why would you want to go into politics, young lady?", 'Where did you get money to participate?', 'Where do you work? And what can you possibly know at this age?'
Contrary to popular belief that women candidates typically deal with education, healthcare and social protection, monitors reported that women participating in the local elections focused on the same issues as their male counterparts. Economic development, jobs, wages, quality of life, urban infrastructure, and the like. Some women candidates drew voters' attention to illegal construction, environmental issues such as a polluted river running across the city or the problems surrounding alcohol sales at night.
Agenda for future reforms
Results of the IDEA-WCU gender analysis point to several key gender equality issues that future electoral reforms will have to address. Recommendations include enhancing electoral quota rules to increase opportunities for women to be nominated as leading candidates, adopting affirmative action measures, and enhancing public funding criteria to ensure that parties receiving public funding will allocate these funds equitably to women and men candidates.
These recommendations are likely to feature as main advocacy goals by women's organizations and gender equality advocates during the 2016-2017 period when the new electoral system for parliamentary elections will have to be discussed and adopted – an important commitment that Ukraine's post-Euromaidan government has made to its people.