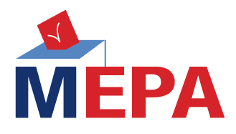 MEPA is an online Master Programme providing advanced learning on electoral processes for current and aspiring election professionals. It targets mid/upper level professionals who want to acquire the specific knowledge and skills to work as election administrator, and/or to work as a part of Election Management Bodies (EMBs).
"The MEPA curriculum is about free, fair and credible elections and that starts with investing in our election administrators and electoral management bodies", said Annette Fath-Lihic, senior programme manager for Electoral Processes at International IDEA. "Providing this relevant and specific curriculum based on the International IDEA electoral cycle is a step toward professionalizing the landscape of elections processes".
Boasting the most reputed international experts in this field, the Master Programme is based on the 2014 International IDEA designed "Model Curriculum – Master of Electoral Policy and Administration", which will be piloted for the first time.
MEPA is composed of an online component (eight months) and an optional residential component at the Scuola Superiore Sant'Anna in Pisa, Italy (up to three weeks). Internships are encouraged but they are not compulsory in order to earn the Master degree.
Individual modules are also available, leading to the attainment of a Certificate of Completion of the specific module taken.
An overview of the curriculum is available for download.