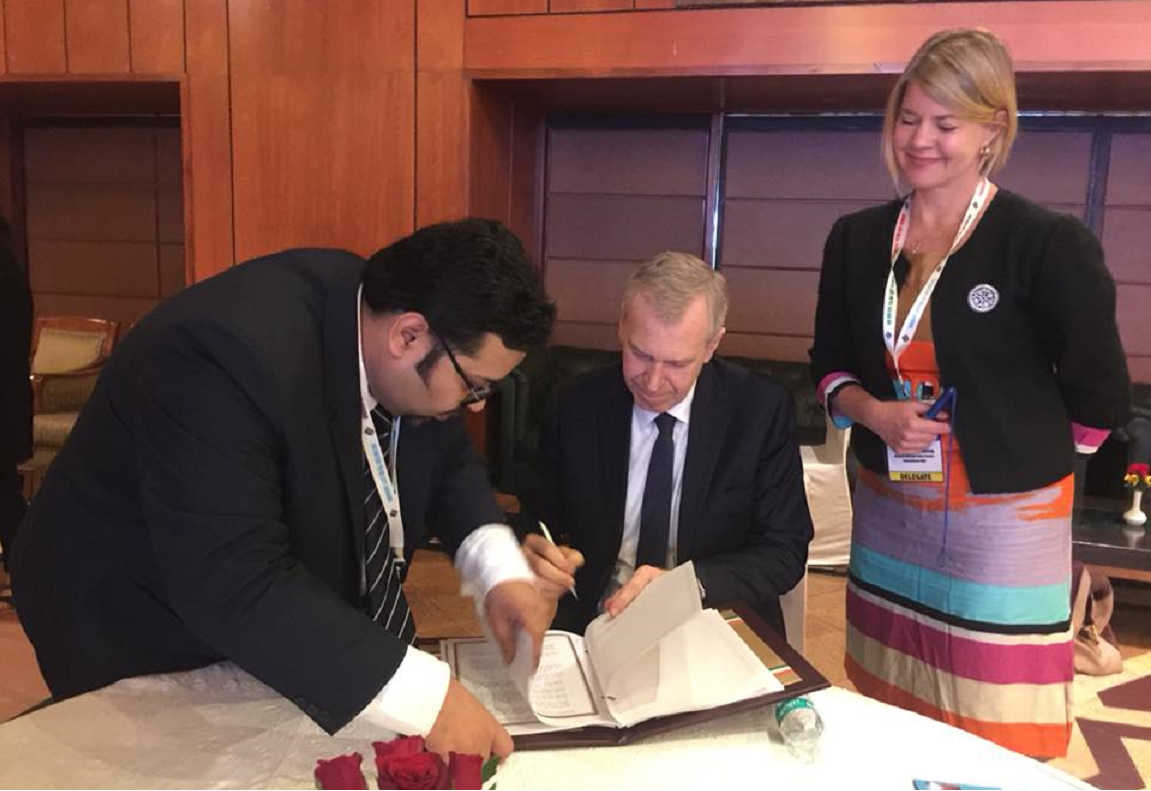 Photo credit: International IDEA
On Wednesday 24 and Thursday 25 January 2018, the Secretary-General of International IDEA, Yves Leterme, travelled to New Delhi, in order to attend an International Conference on the 'Inclusion of Persons with Disabilities (PwD's) in Electoral Processes', and partake in the celebrations for India's National Voters' Day.
The conference, organized by the Election Commission of India (ECI), shared experiences of different election management bodies (EMBs), international institutions and experts regarding the inclusion of PwDs in electoral processes. High-level participants included William Sweeney, President & CEO of the International Foundation for Electoral Systems (IFES); Sh. Om Prakash Rawat, Chief Election Commissioner of India; Election Commissionaires Sunil Arora and Lavasa; and senior officials of the EMBs of Afghanistan, Australia, Bhutan, Guinea, Moldova and Zambia.
At the inaugural session of the conference, the Secretary-General of International IDEA signed a Memorandum of Understanding (MoU) with the India International Institute of Democracy and Election Management (IIIDEM), which was established by the ECI in 2011 as an advanced resource centre for learning, research and training for participatory democracy and election management. IIIDEM is also in charge of training 10 million polling workers for the national Lok Sabha elections, to be organised next in 2019. The MoU, which does not have a termination date, follows a MoU that covered the period 2012-15, and focused on joint initiatives in research, training, experience and knowledge exchanges.
Following the inaugural session, Antonio Spinelli, head of International IDEA's Nepal country programme, made a presentation regarding electoral exclusion of intellectually disabled people, a group that is often overlooked when electoral rights of PwDs are discussed. The topic provoked intense discussion and a plan for further research at the South Asia regional level between International IDEA and the ECI/IIIDEM. Later on, the Secretary-General co-chaired a panel on the Nature and Role of International Organizations and non-governmental organizations in promoting access for PwDs, and proposed that indicators measuring progress of the Sustainable Development Goals (SDGs) and that of SDG 16 in particular should include progress made in ensuring electoral participation by PwDs.
On the 25th of January, the Secretary-General took part in the celebrations for National Voters' Day, visiting the India IIIDEM's Campus. The purpose of celebrating this day is to increase enrolment of voters, especially young voters, and spread awareness among voters regarding effective participation in the electoral process. The National Voters' Day felicitated a group of Millennials—turning 18 in January 2018—who received their voter identity cards from the President of India. The 2019 national elections will have 130 million potential first time voters, many of whom received their voter identity cards at the ceremonies organised around the country on National Voters' Day.