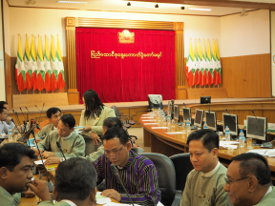 Leading up to the November 2015 elections Myanmar's Union Election Commission (UEC) used the electoral risk management tool (ERMTool) and approach developed by International IDEA to monitor and prevent election-related disturbances. Now a decision has been made to continue using the electoral risk management mechanism throughout the electoral cycle.
In spring of 2015 members of the UEC received training and set up an ERM Unit with the support of IDEA under its STEP Democracy programmefunded by the European Union. The tool became central to the UEC electoral risk management strategy for the 2015 general elections, which were internationally recognized as peaceful and fair.
Last week International IDEA and the UEC conducted two post-election review workshops to evaluate the structures already put in place and develop recommendations for its future use. The first workshop brought together the UEC ERM Unit and all UEC sub-commissions' election officers. Local and national representatives from the Myanmar police force joined them in the second workshop.
The representatives recommended the institutionalization of electoral risk management in Myanmar in light of 2015 achievements. Other key recommendations were made to position the national ERM mechanism as a keystone of interagency coordination and multi-stakeholder linkages for electoral security planning.
The conclusions of these two workshops will be the basis of the upcoming work on security planning and risk assessment of the UEC Post-Election Review National Conference, due to start on February 29th and to involve the UEC, the MPF, as well as other governmental institutions, Civil Society Organizations and Political Parties. The National Conference is expected to issue recommendations, which will serve as a bedrock for electoral reform and electoral strategy revision over the year 2016.