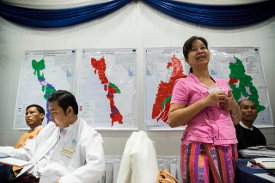 The 8 November elections in Myanmar were historical for its higher levels of credibility and transparency. The Union Election Commission (UEC) overcame large technical and logistical challenges in the run-up to election day. Voter lists had to be verified and updated, ballots printed, secured and distributed, observers accredited, voters educated, and candidates registered. In addition parts of the country was suffering from severe floods which further complicated the situation.
For the first time in Myanmar's electoral history, domestic and international observers were accredited by the UEC to freely monitor the electoral processes.
Lessons learned from the 2015 elections and the way forward were at the heart of the first National Post Election Conference held in Myanmar, which was convened by the UEC on 29 February in Yangon. The Conference was organized with support from International IDEA and the International Foundation for Electoral Systems (IFES), which both provided assistance to the UEC ahead of the 2015 elections.
The conference will result in a report that will serve all stakeholders in their efforts to reform the legal framework for elections, and to update the strategic plan of the Union Election Commission in the post-election period.
The conference was the culmination of a multi-stakeholder reflection that started in December 2015. Over 250 stakeholders involved in the election process participated including the UEC, several other administrations, civil society organizations, media and political parties.
Twenty thematic sessions and five plenary discussions were held. Topics that the attendees reflected on included election security, accreditation of observers, minority inclusion, voter education, campaign finance, voter lists and election legal framework.
Parting Chairman of the UEC, U Tin Aye, is proud of the contribution he and his colleagues could make to the democratization of Myanmar. But the elections were only the beginning, he said.
"We have done the groundwork and laid the foundations for a true democratic Myanmar. Now we should take the next step. I would like to ask Myanmar citizens and international visitors alike to work together for the betterment of the country, without bias. We should cooperate and ask ourselves: what can I do to make Myanmar a better place?"