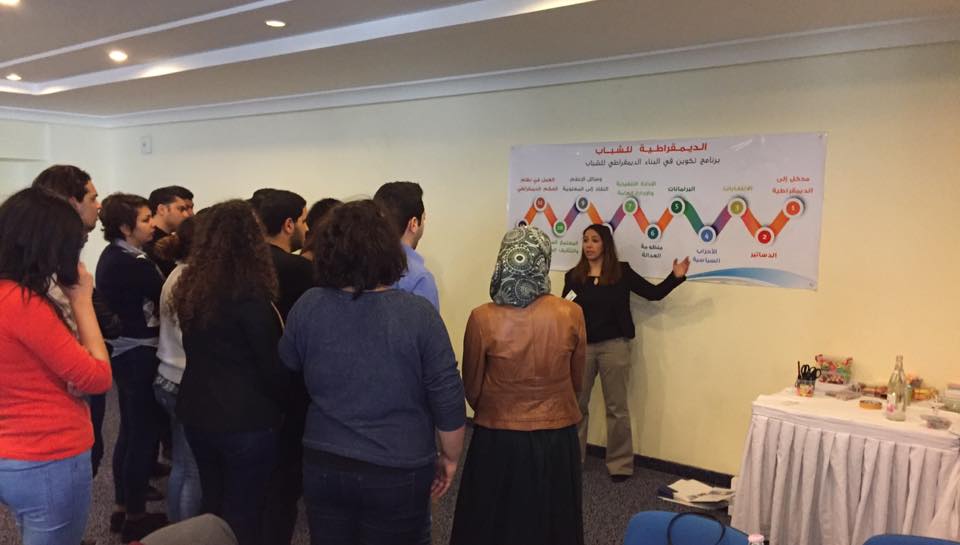 Facilitator explaining the flow of the curriculum

Photo: Shana Kaiser | International IDEA
As countries around the world continue to struggle in bringing the youth into decision-making positions within their democratic institutions and processes, International IDEA identified the need to design new tools that allow young people the opportunity to analyse and explore their democratic realities for effective participation.
One such tool is the newly launched Youth Democracy Curriculum. In development over the course of the last two years, with inputs from youth from across the region, the curriculum is designed to engage youth in their democratic institutions and processes in order to build their capacities to lead the change they would like to see in their democratic contexts.
The curriculum is currently being implemented in partnership with Canada's International Development and Research Centre (IDRC) in Tunisia with the first two of 12 modules launched on the 27-30 January, 2017 and continuing over the coming six months. Prior to the curriculum's implementation in Tunisia, all modules were customized to the national context, while maintaining global comparisons. This approach ensures that young participants are exposed to their democracy and history, while allowing them to analyse their own realities from a global perspective.
Selected from a candidate pool of 200 applicants, 22 youth (12 women and 10 men) between the ages of 19-24 and hailing from across Tunisia will meet on a monthly basis to discuss democratic institutions and processes including (but not limited to) constitution building, electoral processes, political parties, parliaments, local government, civil society and media. In addition to these areas of technical knowledge, participants will continually be building their skills through writing, public speaking, team building and other exercises integral to the programme.
" I think now more than ever we need to empower youth by giving them the opportunity to express what they think and give them the space and enabling environment to grow without imposing on them… at this level of our democratic transition we need an appropriation by young people of political life as they are the leaders of tomorrow." - Nour Kaabi, 26 - facilitator
When asked about the motivation for attending the programme, Rabeb Zatour, a 24 year old woman from Sfax noted that she was interested in learning more about democracy building in Tunisia as:
"We are now trying as organizations, as government and as citizens to implement democratic skills in our society to fight terrorism, extremism and corruption... I am very active in civil society organization and am very interested in [improving my] communication skills and how we can implement democracy in our small region that is trying to build itself after the revolution. I also want to implement the skills that I will gain from this training in my daily work in organizations."
From the first modules, general feedback indicated that many of the youth were interested in the programme because it would allow them to apply the new knowledge and skills gained through the unique internship programme. The internships will offer participants a small stipend and the chance to work with national and international democratic institutions in order for their new knowledge to be put into practice.
International IDEA is currently seeking opportunities for the curriculum's implementation in India, Sir Lanka, Palestine, the Gambia and South Sudan.