On a crystal clear day, set against a backdrop of the snowy Himalayan mountains, around 78 per cent of registered voters turned out to vote in Nepal's second Constituent Assembly elections on 19 November 2013.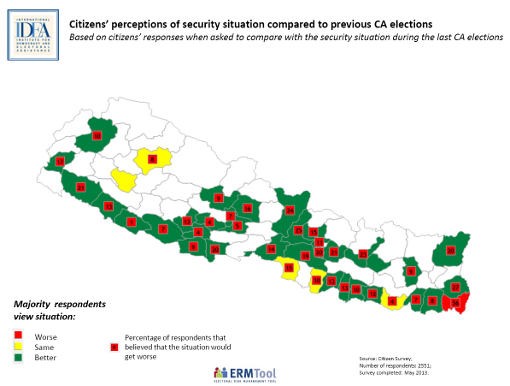 Constituent Assembly (CA) elections are rare events because these bodies are primarily tasked with drafting new constitutions. But in Nepal, a second election for a CA became necessary after the first process had to be halted as the constitution could not be completed by the time the CA's term ended. They were quite close to finishing, though.
Yet from the outset there has been opposition. The Communist Party of Nepal – Maoist led by Mohan Baidya (should be differentiated to the United Communist Party of Nepal - Maoist under the leadership of Pushpa Kamal Dahal or better known as "Prachanda") was joined by 33 other parties in a series of protest rallies and calling for strikes (bandh) right up to election day. So there was a widespread expectation, given Nepal's history of violence, that the conduct of these elections would not be a smooth ride.
With the fear of violence and disruption, the Electoral Commission of Nepal (ECN) was looking for tools and mechanisms to help them organize peaceful and orderly elections. International IDEA's Electoral Risk Management Tool (ERMTool) was one of the Tools the ECN decided to use to assess potential for election related violence, and for actions to be taken to mitigate these risks. Other actions by the ECN included training of officials on security, the establishment of a Joint Election Operations Centre that acted as a "Situation Room" and dialogue with various political parties.
Citizens' perceptions of security situation ahead of the 2013 CA elections compared to the 2008 CA elections. The color code of each district relates to the majority view of respondents and the numerical value represents the percentage of the respondents that believe that the next CA election would get worse.
With International IDEA's assistance (supported by the Swiss Development Cooperation Agency), preparations started in the middle of this year. The implementation of the ERMTool is a capacity development exercise more than anything because of its novel nature. Indeed, the use of risk maps containing colour coded maps along with static markers showing incidents of violence, and graphs showing trends in the rate of physical and psychological violence were new ways in assessing risks for the ECN. Commissioners also found the prevention and mitigation action points suggested in the risk maps helpful.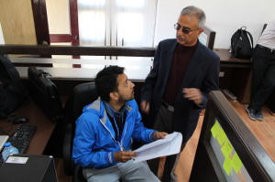 The Chief Election Commissioner, Mr Neel Uprety, said that using the ERMTool was a "culture changing experience" for the ECN. As the Commissioners and staff become more experienced with the Tool, they will develop greater capacity in preventing and mitigating election related violence specifically, and election risks more generally.