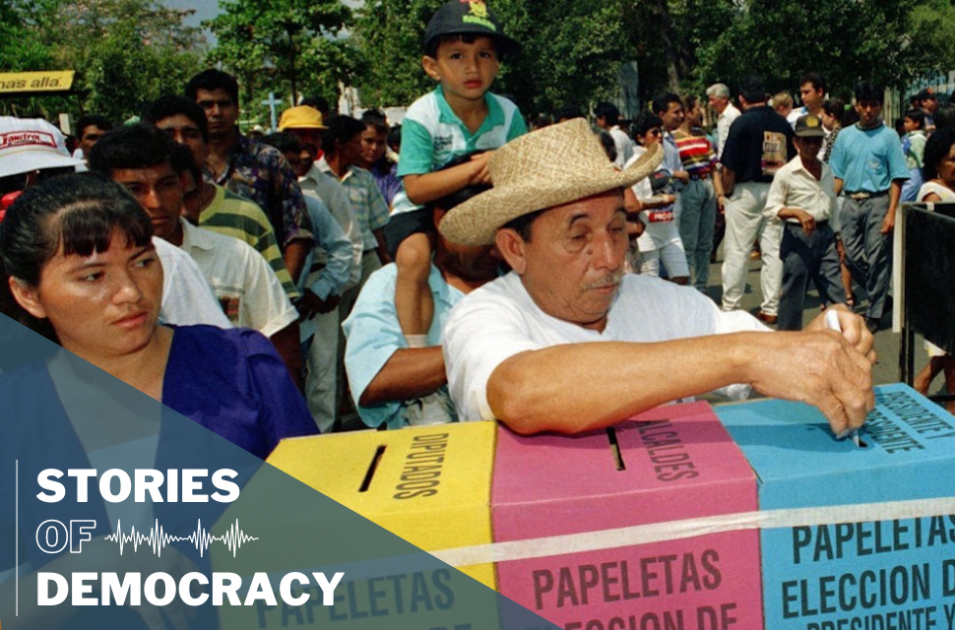 El Salvador - 1994 - Presidential and Legislative Assembly Elections
PUBLISHED:
Thu, 07/21/2022
The 1994 elections in El Salvador were crucial in ensuring the continuation of the post-conflict peace process and for stabilizing the new democracy. Rafael Lopez Pintor describes the challenges he faced as head of the UN's electoral assistance program during these elections.
The 1994 El Salvador elections took place at the end of a two-year post-conflict transitional period. The country had conducted its first democratic elections during wartime in 1982 and saw the first successful transfer of power between elected civilians in 1989. Remarkably, the 1994 elections in El Salvador were the first to be held in a time of peace as well as the first to allows full participation of all political parties, making it the most representative elections in the country's history. Given the turmoil of recent years along with the major concerns that arose from the 1991 municipal and legislative elections regarding voter registration, credibility of documents and count manipulation, meant that the 1994 presidential elections were pivotal in continuing the peace process and stabilizing the new democracy.
The election organization and execution efforts were fraught with challenges. In addition to the fear of a devolution into violence deterring many Salvadorans from becoming involved in the elections, registration of voters became a major roadblock to high turnout on polling day. Due to the war, many municipal archives were destroyed, and the birth certificates of many citizens were lost; without their birth certificates, many registration applications were rejected. Rafael Lopez Pintor, UN Director of Elections in 1994, recalls these voter registration issues well from his time in El Salvador:
"Concerning political mobilization and voter turnout, the main challenge was the complex registration procedures required in El Salvador; it required a birth certificate or regional birth certificate not photocopied, which you had to go present to a registration center which was permanently set. Given the post-conflict environment of the country, and subsequent displacement of citizens, we realized that hundreds of thousands of Salvadorans would have difficulties getting a birth certificate to begin with, or to register, even if they had been registered in previous elections. It was a huge effort to convince relevant authorities to consider a photocopy of birth certificate valid for registration. Finally, the changes were agreed, but then we had to solve the issue of how to get the photocopies from the various municipalities across El Salvador."
Learn more about Rafael's experiences with the 1994 elections in El Salvador in the audio below.