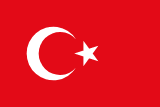 Turkey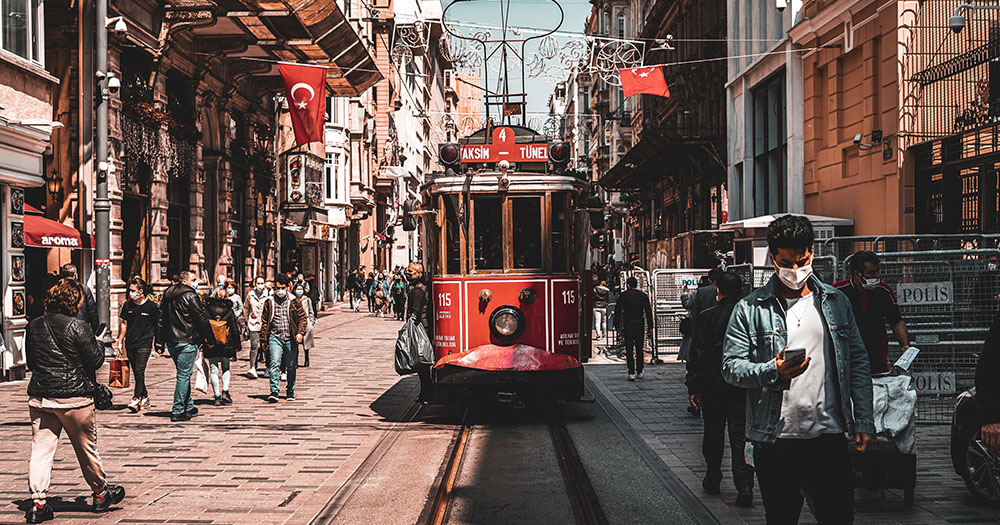 Since its founding as a secular republic in 1923, Turkey has been marked by cleavages between ethnic Turks and Kurds, its urban and rural population, secularism and Islam, and more. The military has frequently interfered in politics – usually, but not universally, framing itself as defending the Turkish republic from an excessively Islamist government – roughly once a decade since the 1950s. Kurds comprise about 20 per cent of the Turkish population, and since 1984 the Kurdish Workers' Party (PKK) has waged an intermittent armed campaign for Kurdish independence that has resulted in 30,000 to 40,000 deaths.
As Recep Tayyip Erdoğan's Justice and Development Party (AKP) took power in 2002, the main political divide has been between mostly rural, conservative and religious Turks and their urban, liberal and secular counterparts. With the President and ruling party identifying explicitly with the former group, this has manifested as increasing restrictions on the operations of political parties that represent the latter groups, barriers to civic activism following the 2013 Gezi park protests, and most recently, more active political interference in academia, higher education and the judiciary. The crackdowns on political opposition, liberal civil society and other groups opposed to Erdoğan's increasingly personalized rule are not ad hoc events, but part of a larger shift to move the country towards an illiberal, authoritarian nationalist mode of governance. The shift to a presidential system approved in the 2018 referendum was read as an attempt to legitimize this political project, and was accompanied by a thorough dismantling of Turkey's administrative institutions and more frequent refusals to comply with decisions of the European Court of Human Rights.
There are no indications that the current Turkish government will reverse its path of illiberal nationalism. Although Turkey's political opposition remains strong in major urban centers and is capable of contesting elections, there are significant institutional hurdles to mounting a serious electoral challenge to AKP dominance at the national level. The Erdoğan government will continue to find enemies to justify its strong-handed rule, which can manifest as further deterioration of relations with the United States and Europe or renewed policing of the perceived loyalty of Turkish citizens abroad. The government's struggle to contain the country's long-running economic crisis or integrate Syrian refugees suggest that Turkey's domestic instability will not be resolved in the near term. Key indicators to watch moving forward are Fundamental Rights, Freedom of Expression and Assembly, Clean Elections, Absence of Corruption, and Judicial Independence.
Monthly Updates
November 2022
The explosion in central Istanbul on 13 November that left at least six killed and 81 wounded was met with a strong response by the Turkish government. The broadcasting supervisory authority RTUK enforced a news blackout and suspended coverage of the incident as well as several social media platforms stating public fear and panic as the motives. Experts said that the information blackout is worrisome as it indicates what's to come in the 2023 presidential election. Turkey blamed Kurdish militants of the Kurdistan Workers Party (PKK) and Syrian Kurdish YPG militia for the attack, which both groups denied. In retaliation, Turkey carried out deadly airstrikes on Kurdish posts in Syria and Iraq. In response to this, a day after Turkey bombed Kurdish militants, rockets were fired from northern Syria in the Turkish border town of Karkamis, killing at least three people. The United States called for de-escalation of tensions in the Turkish-Syrian border, stating that military actions destabilize the region, endanger civilians and undermine ongoing operations against ISIS.
October 2022
The country's parliament has passed a new 'disinformation' law, which has been criticized to crack down on dissent, particularly as the country prepares for elections in 2023. Proposed by president Recep Tayyip Erdoğan, the new legislation prohibits spreading 'false information about the internal and external security, public order and general wellbeing of the country in order to create anxiety, fear or panic among the public'. The law could see journalists and social media users being jailed for up to three years or receiving up to 50 per cent higher sentences in cases where accounts are anonymous. Additionally, Professor Şebnem Fincancı, President of the Union of Turkish Medical Associations and a human rights expert, has been arbitrarily placed in pre-trial detention on "making propaganda for a terrorist organization" following her calls for an investigation into claims that Turkish army used chemical weapons against Kurdish militants. Both developments were widely condemned by human rights groups.
Explore past monthly updates
GSoD Indices Data 2012-2021
Basic Information
Population
85 042 736
System of government
Presidential system
Head of government
Prime Minister Recep Tayyip Erdoğan (since 2014)
Head of government party
Justice and Development Party (AKP)
Electoral system for lower or single chamber
List Proportional Representation
Women in lower or single chamber
17.4%
Women in upper chamber
Not applicable
Last legislative election
2018
Effective number of political parties
2.4
Head of state
President Recep Tayyip Erdoğan
Selection process for head of state
Direct election (two-round majority)
Latest Universal Periodic Review (UPR) date
28/01/2020
Latest Universal Periodic Review (UPR) percentage of recommendations supported
67.29%
Human Rights Treaties
State party
Signatory
No action
United Nations Human Right Treaties
International Covenant on Civil and Political Rights
International Covenant on Economic, Social and Cultural Rights
International Convention on the Elimination of All Forms of Racial Discrimination
Convention on the Elimination of Discrimination Against Women
Convention against Torture and Other Cruel, Inhuman and Degrading Treatment or Punishment
Convention on the Rights of the Child
International Convention on Protection of the Rights of All Migrant Workers and Members of Their Families
International Convention for the Protection of All Persons from Enforced Disappearance 
International Convention on the Rights of Persons with Disabilities
International Labour Organisation Treaties
Forced Labour Convention
Freedom of Association and Protection of the Right to Organise Convention
Right to Organise and Collective Bargaining Convention
Equal Remuneration Convention
Abolition of Forced Labour Convention
Discrimination (Employment and Occupation) Convention
Convention concerning Minimum Age for Admission to Employment
Worst Forms of Child Labour Convention
Regional Treaties
Convention for the Protection of Human Rights and Fundamental Freedoms
Protocol to the Convention for the Protection of Human Rights and Fundamental Freedoms
Protocol No. 4 to the Convention for the Protection of Human Rights and Fundamental Freedoms
Protocol No. 6 to the Convention for the Protection of Human Rights and Fundamental Freedoms
Protocol No. 7 to the Convention for the Protection of Human Rights and Fundamental Freedoms
Protocol No. 12 to the Convention for the Protection of Human Rights and Fundamental Freedoms
Protocol No. 13 to the Convention for the Protection of Human Rights and Fundamental Freedoms
Attributes Over Time