Pillars And Search Questions
The State of Local Democracy Assessment Framework is made up of three thematic pillars, each of which includes a set of questions that help to assess the quality of democracy at the local level. It also includes a separate series of questions to analyze the local context.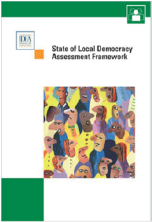 This page lets you dynamically navigate the thematic pillars and questions of International IDEA's State of Local Democracy assessment framework. Click on the three pillars below to start exploring and create your own questionnaire.
For more information on these different aspects, please download the full guide

PDF - Download The State of Local Democracy Framework (12.5MB)
Local Context Analysis: Guiding Questions
What are the main historical, geographical, socio-economic and demographic characteristics of the local unit that are important for understanding the state of democracy?
Select Questions
What is the local government's role and influence within the country's institutional framework?
Select Questions
What is the general level of human safety and security in the local unit?
Select Questions