Vidar Helgesen, Secretary-General of International IDEA (2006–13)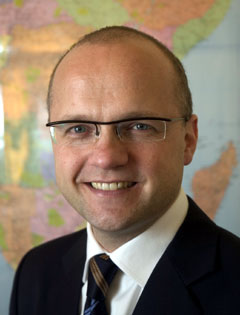 After serving for almost eight years as the Secretary-General of International IDEA, Vidar Helgesen was appointed on 16 October 2013 as a member of the Norwegian Government to serve as Minister for European Affairs and Chief-of-Staff to the Prime Minister.
Prior to joining International IDEA, Helgesen was Deputy Minister of Foreign Affairs of Norway from 2001 to 2005, with a portfolio which included human rights and democracy, refugee issues, peace and reconciliation processes and UN policy. From 1998 to 2001, he served as Special Advisor to the President of the International Federation of the Red Cross and Red Crescent Societies in Geneva.
In his capacity as Deputy Foreign Minister, Helgesen was an active mediator in conflict situations on behalf of the Norwegian Government, notably in Sri Lanka. He is an active Board member of the Centre for Humanitarian Dialogue, an independent mediation organization based in Geneva. Helgesen is also a member of the Board of the Danish Institute for Parties and Democracy. From 2007-2009, he was a member of the UN Peacebuilding Fund Advisory Board.
Helgesen became active in Norwegian politics in the 1980s and has held various positions within the Conservative Party of Norway, including as manager for the Conservative Party's national campaign for Norwegian EU membership in 1994.
---
Karen Fogg, Secretary-General of International IDEA (2002–05)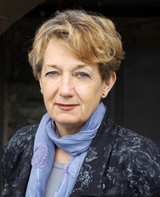 Karen Fogg has worked for the EU Commission and was the Head of Delegation in Ankara (1998–2002) and before that in Bucharest (1993–1998). She worked on PHARE and Enlargement since 1990.
Prior to that, she worked in development cooperation in central Africa and on food security issues. Joining the Commission in 1973, she first worked on employment, social policy and education.
She was assistant secretary general of the International European Movement from 1970 to 1973.
Fogg, a British citizen, studied in Bristol, Bruges and Manchester, focusing on European integration and East-West relations.
Bengt Säve-Söderbergh, Secretary-General of International IDEA (1995–2002)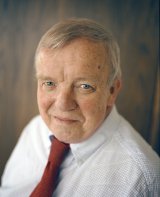 In March1995, Bengt Säve-Söderbergh became the first Secretary-General of International IDEA.
From 1967 to 1970 he worked in the Swedish International Development Authority, SIDA, from where he moved to the Africa section of the Swedish Ministry for Foreign Affairs. From 1976 to 1978 he was Research Secretary at the Swedish Trade Union Confederation, with a special emphasis on international affairs.
He headed the International Centre of the Swedish Labour Movement, later renamed the Olof Palme International Centre, from 1978 to 1985. Thereupon he was appointed Deputy Minister for International Development Co-operation at the Swedish Ministry for Foreign Affairs, where he was responsible for Sweden's multilateral and bilateral policies on development co-operation.
In 1991 he was appointed Ambassador at the Swedish Ministry for Foreign Affairs. From late 1992 until February 1995 he led a feasibility commission that later resulted in the founding of International IDEA.
He was awarded the Order of Merit for his contributions to the struggle for freedom in Poland by the then President of Poland Lech Walesa, and the Parliament of Mozambique has awarded him the Order of Merit for his contributions to combat colonialism and apartheid.
Säve-Söderbergh, a Swedish citizen, holds a Master of Business Administration from the Stockholm School of Economics and also studied at Union College, Schenectady, NY, USA.